Manatee County's Complete Guide To Termite Swarmers
3/30/2021
Pest management isn't just necessary when you see insects and creatures on your Manatee County property. Where there are many, the only defense is to prepare in advance, because once they're indoors, the situation will be dire. This could be because they reproduce rapidly and can pose a great threat. Critters that can penetrate your home or business insidiously are even worse. All of these characteristics apply to termites.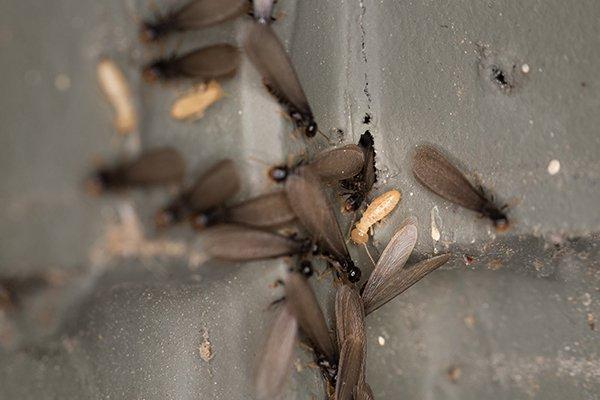 Termites are wood-eating bugs. Annually, Americans have to dole out $5 billion to bounce back from them. Many people aren't familiar with the most evident infestation indicator, which are swarmers. When you understand what to look out for, you'll know when to reach for help. Learn more about this, and how Keller's Pest Control can save the day.
How Do Termites Function? What Are Termite Swarmers?
There are multiple termite subspecies in Manatee County, and the peak activity seasons vary. That in mind, these insects are hustling and bustling during the whole course of the year. Some groups mate the most in the spring and this responsibility falls on the winged swarmers. These 0.50 of an inch long specimens fly from nests that are full to start new colonies. You might see the yellow, brown, or black bugs coming out of termite foundation holes, or by light sources. Keep an eye on your window sills and bulbs. Swarmers are such a definitive infestation sign because they're the only termites that show themselves. Workers and soldiers creep behind walls. The 0.12 of an inch long workers are often white or grayish white. Soldiers aren't much bigger and are yellow brown. You may tell them apart by their rectangular heads and big jaws. Other things to take note of are:
Discovering swarmer wings; they're translucent and scaly
Finding heaps of fecal frass underneath tiny foundation holes, maze patterns, and mud tubes
Having hollow sounding walls
Hearing noises from inside walls, like rustling and clicking
Noticing that paint is beginning to peel and look water damaged
Detecting that drywall is suddenly pale and droopy
Flimsy tiles and waning floorboards
Doors and window frames that fit tight
Walls and bases won't be secure anymore with termites around. It's not impossible for a structure to collapse and someone could get hurt. It won't just be your home or business at risk. A relative, customer, or employee could be injured. To cope with this, in addition to a possible relocation or closure, would overwhelming. Termites don't carry diseases, they only trigger allergic reactions.
Is There Anything One Can Do to Prevent Termites & Swarmers?
Thankfully, termites can be thwarted. It's just going to take some effort to meticulously maintain your property externally. You'll have to put care into your building and lawn, so swarmers won't have the perfect space to create a colony. Practice the following preventative measures:
Decaying or fractured wood should be removed or refurbished
Faulty fixtures and leaks must be repaired immediately; those dampening wood especially
Patch up gaps in caulk, utility lines, and foundations
Attach screens to all vents that face the outside
Wash gutters and vents regularly
Free wood, like carpentry panels, should never be on soil
Distance plants and loose wood from the property
Cut grass and greenery frequently
How Will Keller's Pest Control Exterminate Termites & Swarmers?
Keller's Pest Control staffs Termidor Certified Professionals. This means our technicians are trained to use liquid Termidor, a supreme termite eradication product. Further, if necessary, a sulfuryl fluoride gas fumigant may be utilized. These solutions are designed to wipe out colonies, and are safe for humans and pets. Preventive options, Wood-Destroying Organism inspections, and warranties are available. Call Keller's Pest Control today and get a free estimate!